| | | | | |
| --- | --- | --- | --- | --- |
| Sponsored by: | | | | |
Thank you to the many OAMES members who attended the 7th Annual Summer Camp on June 23 learning the in's and out's of Medicare policy, documentation training and claims processing practices. The Summer Camp audience recognized the many Medicare program changes coming July 1 and capitalized on this well-timed educational seminar to prepare their staff and company operations.
Special thanks to OAMES Summer Camp Sponsor Acu-Serve and OAMES Corporate Sponsor Invacare for their generous support to bring this quality training to Ohio HME providers.
Stephanie Greene, Esq. led two sessions; one breaking down the myths and realities of Medicare audits and appeals and key mistakes suppliers should avoid. She also tested the audience on their documentation knowledge reviewing forms for errors and sharing tips for improving quality control.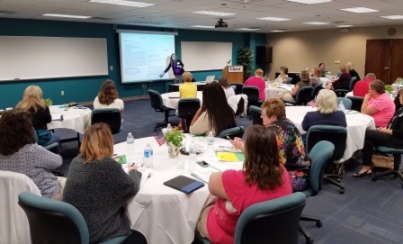 The afternoon sessions focused on news from the Region B Council by Missy Cross, NGS by Charity Bright and CGS by Pat Stephens, highlighting everything you need to know to be ready for the Jurisdiction B DME MAC transition. Ms. Stephens, Provider Outreach & Education Manager, is pictured below leading the final session of the day.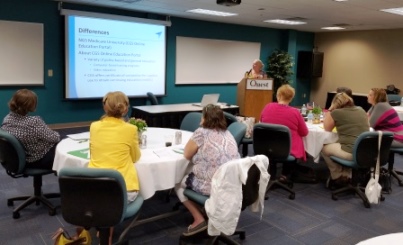 OAMES next educational event will be the Fall Medicaid Training Seminar on Sept. 22 at the Quest Business Center. Providers are welcome to submit questions, issues or suggestions for topics they'd like covered at this program to Kam@oames.org. Watch for registration to begin in August.
Latest News
07/27/2016
OAMES Urges Referral Sources to Take Important Survey
07/20/2016
07/08/2016
07/07/2016
More Industry Participation Sought to Make Stronger Case for Audit Reform
View all
Upcoming Events
←
July 2016
→
S
M
T
W
T
F
S
1
2
3
4
5
6
7
8
9
10
11
12
13
14
15
16
17
18
19
20
21
22
23
24
25
26
27

Presented by Jeff Baird, Brown & Fortunato

AAHomecare Webinar

July 27, 2016


2:30-4:00PM

28
29
30
31
July 27, 2016

2:30-4:00PM
Presented by Jeff Baird, Brown & Fortunato
AAHomecare Webinar
August 11, 2016

10:00AM-3:30PM
with CGS Adminstrators
Indiana Wesleyan University (North) - Indianapolis, Indiana
September 15, 2016

9:30AM-1:30PM
Columbus location to be announced
View all