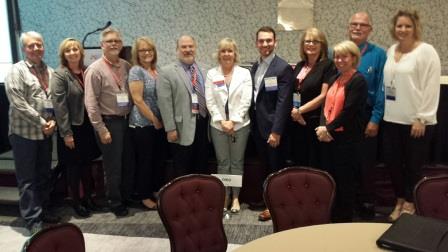 Last week was a banner week in Washington DC for the HME industry! With a last minute Congressional hearing development, a tribute to Mal Mixon for the Legislative Advocate Lifetime Achievement Award and busy briefings to prepare for a full day of legislative visits on Capitol Hill, the conference attendees hit the ground running!
There were a number of issues covered in the industry legislative appointments including efforts to reform the Medicare audit process, expand prior authorization and create a separate benefit category for complex rehab technology. However, the primary focus at this year's event was fighting the 2016 Medicare cuts, the expansion of bid rates to non-bid areas, which are scheduled to go into effect in January. OAMES is working closely with AAHomecare and our Congressional offices on this issue and will have more details to report in the coming weeks.
While the Ohio group was small, they were hard-working and covered both Senate offices and all 16 House offices in a hectic seven hours on the Hill! OAMES was represented by executive director Kam Yuricich as well as and providers and associate members from ECS Billing & Consulting, Family Oxygen and Medical Equipment, Invacare, Medical Service Company, O.E. Meyer, Roscoe Medical and VGM Group.
Upcoming Events
September 10, 2015

3:20PM
Quest Business Center - Columbus, Ohio
September 16, 2015

9:30AM-1:30PM
Columbus, Ohio - location to be determined
October 26-29, 2015
Georgia World Congress Center - Atlanta, Georgia
View all